The recent discovery of the RNA silencing pathway has revolutionized our understanding of the fundamental processes of life, including how gene expression is regulated and how viruses manipulate their host organisms. Understanding the molecular details of this process and gaining control over the system will allow us to generate novel strategies for therapeutic intervention in human diseases and viral infections.
Our laboratory is working to develop protein-based tools for studying the RNA silencing pathway, which are highly needed in order to understand the molecular details of how this pathway functions, and how it impacts human disease and viral infections. We apply highly creative strategies in protein engineering and structural biology, as well as chemical and synthetic biology to generate these novel biotechnology tools.
Our focus is on developing tools based on the p19 protein. p19 is endogenous to tombusvirsuses and functions as a suppressor of RNA silencing. We employ the p19 protein because of its highly unique ability to bind small RNA molecules. p19 has the highest affinity of any protein for short interfering RNAs (siRNAs) which small double stranded RNAs which are 19 base pairs in length. p19 acts like a molecular caliper, where it binds small RNAs with specificity based on the length of duplex. Because p19 binds double stranded RNA of any sequence, it offers unique opportunities for technology development surrounding small RNAs.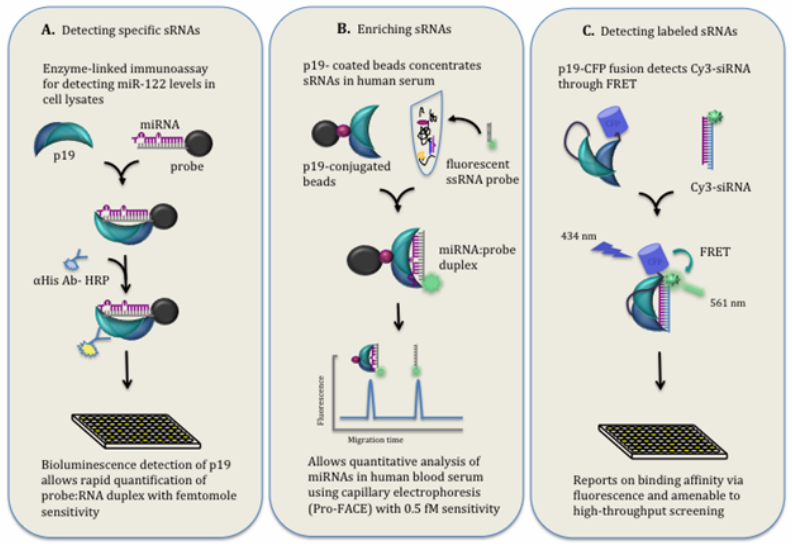 We are engineering p19 and applying our variants for detection of human miRNAs which are heavily involved in human disease and viral infection. We are pursuing these studies using novel approaches in protein engineering and structural biology, including X-ray crystallography to engineer p19 for detection and sequestration of specific human miRNAs both in vitro and in vivo. These engineered proteins have applications in biomarker discovery and as novel antiviral therapeutics. Additionally, we have engineered p19 as an siRNA delivery agent, by genetically fusing p19 with a cell penetrating peptide, which allows the p19:siRNA complex to enter cells and elicit gene knockdown, with applications in biotechnology and potential for human therapy. In summary, the biotechnology tools we are developing based on the p19 protein are increasing our fundamental understanding of small RNA molecules in diverse systems and allowing novel approaches for altering their function for therapeutic intervention.