Amanda Van Lankveltfs research
Amanda completed BA at Carleton College in Wisconsin in the spring of 2010 and arrived in Ottawa in the fall of 2010.
After completing MSc at UO in the winter of 2013, she started a PhD program at the University of Massachusetts at Amherst.
<![if !vml]>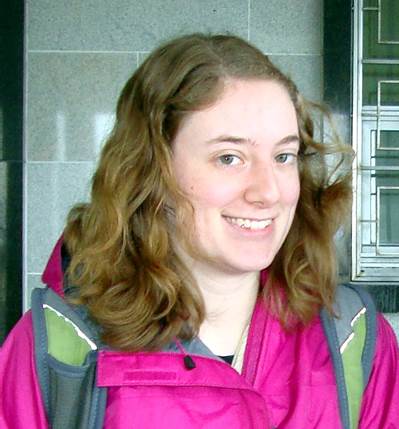 <![endif]>
Her thesis research project examines tonalitic-granitic rocks around the North Caribou greenstone belt, which is considered to be the core of the Canadian Shield.
Amanda Van Lankveltfs presentations.
VanLankvelt, A., Schneider, D.A., Biczok, J., Macfarlane, C., Hattori, K.,2016. Decoding zircon geochronology of igneous and alteration events with chemical analysis and microstructural features: A field-based study from the Western Superior Province, Canada. Journal of Petrology, vol. 57 (7), p. 1309-1334. Doi: 10.1093/petrology/egw041
Van Lankvelt, A., Schneider, DA, Hattori, K., 2013. Disturbing the time capsule: Hydrothermal effects on zircon U-Pb ages. Geological Society of America Annual meeting. Abstract, poster ( 4 Mb)
Van Lankvelt, A., Schneider, D., Hattori,K., Biczock, J., 2012. Anatomy of a Mesoarchean batholith in the North Caribou terrane. Institute of Lake Superior Geology Meeting in Thunder Bay. Abstract
Van Lankvelt, A., Schneider, D., Hattori,K., Biczock, J. 2011. Punctuated magmatism in the North Caribou greenstone belt, Superior Province. Abst. Geological Society of America Annual Meeting. Vol. 43, no. 5. Abstract PDF
Van Lankvelt, A., Schneider, D., and Hattori, K., 2011. External granitoids of the Mesoarchean North Caribou Terrane. Presented at Advances in Earth Science Research Conference 2011. Abstract
Van Lankvelt, A., Schneider, D., Hattori, K., Biczock, J., 2011. Neoarchean magmatism in the NW Superior Craton: Granitoids of the North Caribou Terrane. Presented at the Institute of Lake Superior Geology Meeting in Ashland. abstract
Pictures in the fiels in 2011and 2011
| | |
| --- | --- |
| <![if !vml]><![endif]> | <![if !vml]><![endif]> |
| All of us | Amanda was always the head cook |
| <![if !vml]><![endif]> | Once we get the project area with a float plane, we visit outcrops with a Zodiac |