​Abundance-based proteomics techniques do not always accurately represent the functional output, or activity, of enzymes. Following protein translation, the catalytic activity of enzymes is often further modulated through post-translational modifications or allosteric regulation, such as protein-protein interactions.
Activity-based protein profiling (ABPP) uses small molecule activity-based probes (ABPs) which form irreversible bonds with target enzymes based on their structure and their catalytic activity. ABPs consist of three distinct components: a reactive warhead to form the bond between the enzyme and the probe, a targeting group responsible for directing the probe to an enzyme's active site, and a reporter tag. While many probes can label a large range of enzymes, increased selectivity can be achieved by tailoring the targeting group on the probe to specific enzymes of interest.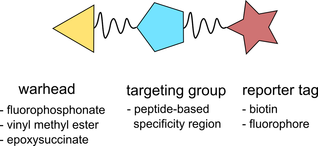 Fluorophosphonate
Fluorophosphonate (FP) is a well-established probe which labels members of the serine hydrolase family of enzymes. Serine hydrolases are one of the largest enzyme groups, accounting for 1% of the human proteome. They exhibit a large diversity of functions, hydrolysing amide, ester and thioester bonds of proteins and metabolites. We have used this probe to investigate changes in enzyme activity during HCV replication. We are currently using it to characterize immunometabolic- and miRNA-stimulated changes to enzyme activity.


Orlistat
Orlistat is a probe which specifically labels the enzyme fatty acid synthase (FASN). It can be used to quantitatively assess enzyme activity in-gel or by LC-MS/MS. Due to its high specificity, it can also be used for
in situ
imaging, showing the localization of active FASN.

Wortmannin-yne: profiling kinase activity
Many of the biochemical pathways manipulated in order to create a pro-viral environment are controlled by kinases, which are therefore an attractive target for both the virus and drug therapies. We have synthesized and developed a novel probe, wortmannin-yne, which is capable of detecting active kinases. This probe has been used to characterize changes in kinase activity during hepatitis C (HCV) replication. We are currently expanding the scope of our research to examine changes to kinase activity during HCV and Dengue virus infection.

PIKBPyne: a novel probe design to map interactions of active proteins
Phosphorylation of phosphoinositides (PI), components of intracellular membranes which act as signaling molecules, are essential for the replication of many viruses. The regulation of the kinases which phosphorylate these molecules are therefore often hijacked by infecting viruses. Protein-protein interactions represent a common method of enzyme regulation which are capable of regulating enzyme activity via several mechanisms: by changing the localisation of the enzyme within the cell, by inducing conformational change relevant to enzyme activity, or by recruiting other proteins to do so. We have synthesized a probe which recognizes and binds to the active PI kinases. By introducing into the probe structure a long linker region which extends a protein cross-linking moiety outside the enzyme, we can label and isolate proteins which interact with an active PI kinase of interest. Through building PI-kinase interaction maps, we can determine how these interactions change during viral infection, and which pathways and proteins are responsible for altering PI phosphorylation.